Neck Pain Diagnosis & Treatment Pain Doctors NYC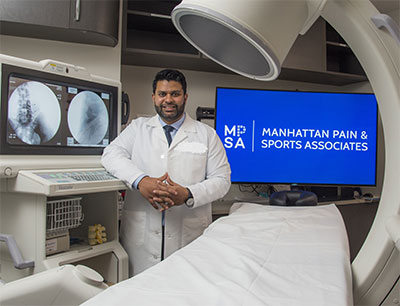 At Manhattan Pain and Sports Associates you'll get the neck pain management and doctor's care you need to reduce or eliminate your acute or chronic neck pain. Because when you're in pain — whether it's from an accident, computer strain, age, or ailment — you want relief quickly. Appropriate and targeted neck pain management and treatment starts with a proper diagnosis from your NYC neck pain management doctor.
Neck Pain
Your boss may be a pain in your neck, but it's more likely that the work you do at your job is causing that neck pain. The ubiquitous use of computers has contributed immensely to the incidence of neck pain. It's a very common complaint our NYC pain management doctors hear daily and according to the Mayo Clinic neck pain is most always associated with hunching over a workbench or computer.
Neck pain rarely results from more serious your should contact Manhattan Pain and Sports Associates if your neck pain causes:
Any strength loss or numbness in one or both arms
A shooting pain down your arm
Sudden shooting pains in your shoulder following a bout of neck pain
Keep Your Head Up
Your neck has to support the full weight of your head from the moment you lift it off the pillow in the morning. A human head weighs about 15 pounds — that's a lot of weight for your small neck bones to carry around all day. Additionally, you turn and move your neck constantly most days.
Because it's so flexible, your neck is that much more vulnerable to injury and stress, which can lead to pain and restricted movement. In addition to poor posture, other causes of neck pain can include:
Big Bothersome Pain
A pain in the neck is no joke. It can totally ruin your day and drastically affect your ability to work, exercise or play your sport of choice. You may feel:
Pain that gets worse when you hold your head in one place for long periods of time
Spasms and tightness in the your neck muscles
Headaches
An inability to move your head to one or both sides
If you don't feel any better after about two weeks of home care or if you were in an auto accident, see a doctor about the pain. Check in with your physician if:
The pain starts spreading down one or both arms
Gets really severe
Feels worse after a couple days of self-care
Causes headaches that worsen over time
The pain is accompanied by numbness or tingling
You feel nauseous
Go to your doctor's appointment prepared to explain:
Where it hurts
When the pain is strongest
When the pain began
If you were in an accident or know the exact incident that precipitated the pain
How long the pain lasts
Any and all details about the pain
While you can't do anything about your boss, you can get help for the pain in your neck.
Get the Relief You Need
Your NYC neck pain management doctor will do his / her best to get you back to your normal routine with minimal downtime. After your diagnosis is confirmed, your doctor begins your neck pain management and treatment plan with the most conservative pain relief treatment. You'll always receive non-invasive pain relief before your doctor turns to more invasive procedures like surgery.
Manhattan Pain and Sports Associates
51 East 25th St, 4th Floor, Ste B
New York, NY 10010
(212) 533-3954
DISCLAIMER: PLEASE READ CAREFULLY
The information on this site is to be used for informational purposes only and is not intended or implied to be a substitute for a pain doctors advice, diagnosis or treatment. It is important to consult a best in class pain management doctor in NYC regarding ANY symptoms or signs of knee, hip, back pain including lower or upper back pain as it may be a sign of a serious illness or condition. A thorough examination should ALWAYS be performed for an accurate diagnosis and pain management treatment plan. Be sure to call our top pain specialist in NYC to schedule a consultation.