The Most Advanced Pain Management Clinic in NYC
At Manhattan Pain and Sports Associates you'll get the pain management doctor's care you need to reduce or eliminate your pain. Because when you're in pain — whether it's from a sporting injury, accident, age, computer strain, or ailment — you want immediate pain relief. Appropriate and targeted pain relief treatment starts with an accurate diagnosis from our pain management specialists. Diagnosing the underlying cause of your pain is essential to start you on the right treatment plan.
Please note: referrals are not required to see our pain management doctors or sports medicine specialists.
I have a slipped disc, and had terrible pain in my back last week. I went to the pain management specialists who were very thorough in explaining my options and gave me amazing care. I'm already feeling much, much better. They were diligent every step of the way.

I'm also there for physical therapy now, and have been receiving great treatment. Very friendly staff, and the facilities are brand new.

~Google Review

Verified User
At Manhattan Pain and Sports Associates our pain management specialists create individually tailored treatment plans to get you out of pain as quickly as possible. We are proud to work with the most advanced best in class pain diagnostic tools. Your evaluation process with us may include CT Scans, MRIs, X-Rays, EMG, Diagnostic Ultrasound, Discography, and a full medical history – in short, whatever it takes to get to the root of your symptoms.
Comprehensive pain management approach. Once we have established the cause of your pain, our pain management doctors in NYC offer a wide range of interventions to tackle your pain including physical therapy, occupational therapy, internal medicine, pain relief injections, nerve blocks, electrical nerve stimulation, spinal mobilization, ultrasound therapy, and when necessary we prescribe pain narcotics and anti-inflammatory medication.
We offer effective and sustainable personalized pain management treatments for the following conditions. Please contact us for more information if you do not see your condition listed here:
Sports Medicine: As sports medicine specialists our doctor's can accurately diagnose what's causing your pain from your sporting injury. We are dedicated to the prevention, diagnosis, treatment, rehabilitation and pain management of sporting injuries including elbow bursitis, golfer's elbow, tennis elbow, rotator cuff injury, arm and hand injuries, ankle sprain, shin splints, achilles tendon, plantar fasciitis, stress fractures, and myofascial pain syndrome.
Back Pain: The most common reasons patients visit our back pain specialists include sciatica (treatment for sciatic or pre-sciatic symptoms) spinal stenosis (spinal narrowing), slipped disc, degenerative disc disease, osteoarthritis, facet joint syndrome, post surgical back pain and scoliosis.
Knee Pain: A painful knee can be due to a myriad of causes including torn ligaments, a sporting injury, torn cartilage, arthritis, or trauma. Some of the more common knee pain conditions we diagnosis and successful treat include chronic knee pain (chronic knee pain isn't necessarily pain you feel all the time. You may experience the pain more acutely when you're active), tendonitis of the knee, knee bursitis, iliotibial band syndrome (ITBS), and Jumper's knee. We treat sports injuries of the knee including anterior cruciate ligament (ACL) injury, posterior cruciate ligament (PCL) injury, medial collateral ligament (MCL) injury, lateral collateral ligament (LCL) injury and have extensive experience in meniscal tears.
Neck Pain: Neck pain can vary from a minor condition such as a pinched nerves to a more serious condition such as herniated discs. We also see a large patient population with degenerative disc disc disease as well as rheumatoid arthritis.
Shoulder & Upper Body Pain: One of the three most common complaints told to our NYC pain management & sports medicine specialists involves pain associated with the shoulder and upper body (including arm and hand pain). Our most frequent diagnosis include frozen shoulder, rotator cuff injury, carpal tunnel syndrome, arthritis of the hand or wrist, ganglion cyst, elbow bursitis, golfer's elbow, tennis elbow, radial styloid, and trigger finger or trigger thumb.
Hip Pain: Hip pain may be felt directly over your hip, in your groin, or it may even radiate down your leg into your thigh, knee, and as low as your heal. Hip pain presents in our NYC patients of all ages and tends to be a common sporting injury with our patients who are runners. The most common hip pain conditions we treat include hip sprain, osteoarthritis of the hip, hip flexor strain and chronic hip pain.
Pain Medications: There are many pain medications available today for the treatment of pain. They type of medication prescribed will depend on the type of pain, other medications being taken, other medical issues, and so on.
Our best in class award winning pain management doctors utilize an advance and comprehensive pain management treatment model that provides each pain patient with a unique treatment plan that is tailored to them and may include several treatment components.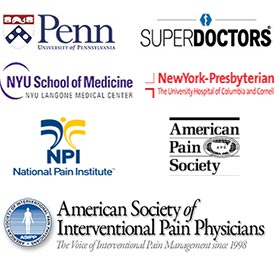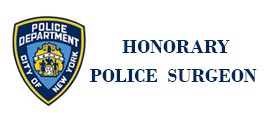 Same & next day appointments
New state of the art facility
Award winning Ivy League trained doctors
Integrated, multidisciplinary, minimally invasive approach
Individualized patient centered care
Leading NYC hospital affiliations
"I consider this top-notch NYC practice my medical 'home'. The office is a contemporary and very comfortable.. All of the personnel are friendly, knowledgable, and a pleasure to work with, both in-office or on the phone (an important consideration for me, as a great deal of the process is taken care of via phone). Whether it's scheduling/confirming appointments, managing prescriptions and/or testing protocols, giving referrals, or addressing any minor issues that may arise, the staff is always very professional and 'on point'."
"I can't say enough about how kind, patient, caring, and courteous everyone is at this doctor's office. From day one I have been well looked after, and considered family by the doctor and the professional staff. I have no complaints whatsoever, only praise for their outstanding service. One time I missed an appointment and two people from the office called to make sure I was OK! It is incredibly hard to find this level of amazing service. I give them the highest rating and recommendation."
"Friendly, polite and caring staff. Their office environment is so welcoming. I love being a patient here and am so glad I found them."
Manhattan Pain and Sports Associates, the most advanced, comprehensive pain management clinic in NYC focuses solely on the prevention, diagnosis, best in class treatment and rehabilitation of painful disorders. Comprehensive assessments by our doctors are an essential component of our pain management & sports medicine practice. We are committed to providing personalized solutions for pain to greatly improve your quality of life. We understand that each patient has a unique problem and therefore customize each and every pain management program.
Manhattan Pain and Sports Associates
51 East 25th St, 4th Fl, Ste B
New York, NY 10010
(212) 533-3954